PEACOCKS IN PARADISE:
OFF THE GRID FLY FISHING ADVENTURE
OF A LIFETIME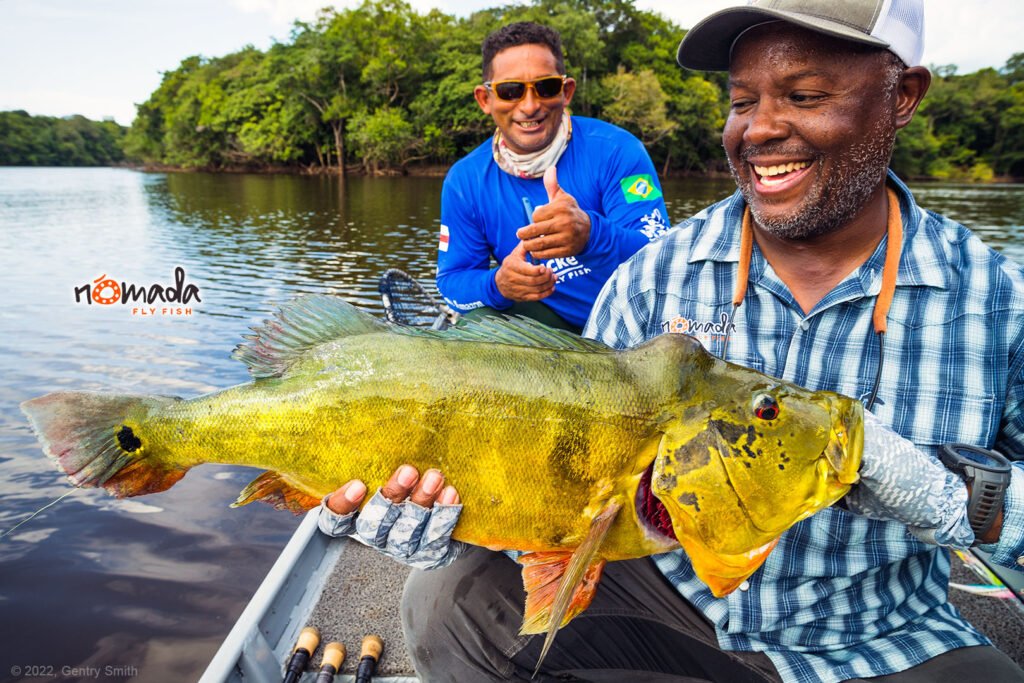 Nomada Fly Fish is excited to offer a few choice anglers the extraordinary opportunity to catch trophy-size peacock bass up to 20 pounds on the breathtaking Xeriuini River Preserve located in Roraima, Brazil's northernmost and least populated state located in the Amazon Rainforest.
What makes this trip so special?
This unique experience will surely appeal to your sense of wonder and adventure. With the assistance of world-class, English speaking guides, you'll have the chance to fight peacock bass—one of the most powerful and elusive freshwater gamefish on the planet—among other exotic fish species—arapaima, arawana, payara (vampire fish), jacunda, and traira (wolf fish) just to name a few—in a wild jungle setting. Because it's limited to less than 40 visitors per season, this hidden gem is exclusive, to say the least, and features an unexpected level of "plush" accommodations—relatively speaking to its remote location.
Upon arrival, our clients will be flown, via floatplane, to hard-walled floating cabins featuring electricity, air conditioning, and an indoor bathroom with a shower—amazing accommodations for the middle of nowhere!
Each day you'll be professionally guided from a newer 18' flat bottom fishing boat equipped with a gas-powered motor, electric trolling motor, polling platform, and two casting platforms. Additionally, all meals—served in a climate-controlled dining hall—and beverages are provided in the cost.
If you're ready to embark on a journey of a lifetime, give Nomada a call, and we'll ensure your next fishing trip is truly legendary.
PRICE INCLUDES:
7 Nights lodging in luxury floating cabins located on a remote stretch of the Xeriuini River
6.5 Days guided power boat fishing with English speaking guides
All necessary ground transfers in Manaus
Ground and air transportation from Manaus to the river
All meals and beverages
Fishing license
All taxes & fees
Note: price is per angler/guest based on double-occupancy; 2 anglers/guests per room and boat.
COMPLEMENTARIES:
Daily laundry service available
NOT INCLUDED:
Air transportation to Manaus, Brazil
First night's lodging in Manaus, Brazil
All fishing equipment and flies
Standard gratuity for guides
WHAT TO BRING:
8 to 10 weight fly rods
Heavy taper floating fly line with tropical core
Tropical intermediate line
40 to 50 pound monofilament leaders
30 to 40 pound fluorocarbon leaders
Selection of big popper and unweighted streamer flies (3-4 dozen flies)
Rain jacket
Polarized sunglasses
Hat
Sunscreen
FLY FISHING:
Remote Amazonian river in a tropical jungle setting
Trophy-size peacock bass and other exotic freshwater species
Power boat fishing
FLOATING CAMP:
The floating cabins are plush, complete with Air conditioning and a full bathroom including showers. They float in less than 8 inches of water and can be mobilized daily to ensure our anglers get to fish fresh water every day and are put in the best conditions to catch fish. The dining cabin is also air conditioned.
RIO NOVO IMAGE GALLEY: